Commencement 2019: Stanwich 'Graduates' with Its Sixth Senior Class [includes speech texts]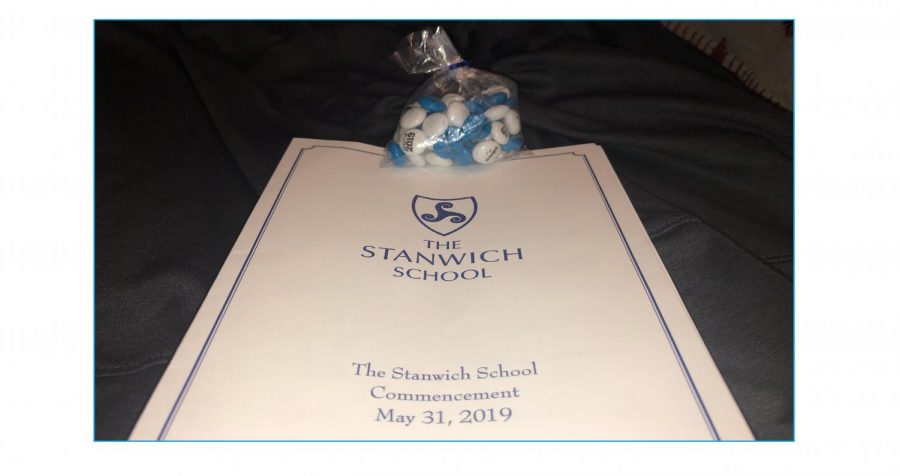 David Jared Matthews, Reporter
June 1, 2019
NEWSROOM – As with all events this school year, mixed emotions were commonplace at Stanwich's Graduation ceremonies.  The Class of 2019 took center-stage and were the focus of the day, even as many speakers wrote perceived or actual love-letters to Stanwich in a fitting final event before the school gym closes.
"Wherever you find a Stanwich teacher, you find a home," was a line concluding Ms. Woods' faculty speech, summing up the message to the graduates who are off to colleges from NYU to Princeton; from Wagner to the University of Michigan; from UConn to Bucknell.  Stanwich teachers, faculty, and staff will also be near and far after this Commencement.
This was the message "for you; for all of us" delivered by Valedictorian Cullen Murphy in her speech to the families, friends, and Stanwich community alumni and supporters in the audience which included Paul Geise, Stanwich's second Head of School, and of course Pat Young, the school's founder. Charlie Sachs, school Headmaster and Jerome Murphy, Head of the Upper School, conducted the event.
Below is the text of Cullen's speech followed by that of Ms. Wood's address.
Cullen Murphy, Valedictorian
Thank you, all of you, for being here today. We deeply appreciate all of you coming here to honor us.
Thank you to our teachers, staff, faculty, and administration for constantly pushing us to fulfill our goals and for always being willing to help us and talk to us and hear us in and out of the classroom. You believe in us. You truly believe in us. You are our friends.
Thank you to our parents, grandparents, siblings, aunts, uncles for loving us. Your love and support have shaped us into the young men and women we are today. We will always love you.
We are grateful for each student of the Stanwich School for expressing yourself and contributing to this outstanding community that has helped us to be the best of ourselves.
Thank you to Patt Young, for having the ambition and the creativity to envision this school years ago and ultimately make it a reality that has touched each and every one of us in this room and many more who could not be with us today.
Thank you to my classmates for helping me, for helping each of us get to this point in our lives. Congratulations to the Stanwich Class of 2019.
Thank you to every single member of the Stanwich community for living honestly, compassionately, courageously, wisely, committedly, forgivingly, and joyfully. The Stanwich spirit lives on through the people. Through you. Through all of us.
All of our experiences, achievements, and memories have brought us closer and closer together each day. Learning and laughing and growing with you all has shown me that Stanwich is a family, and family is forever. We are deeply honored to be part of this family. The heart of Stanwich lies within the people. Within you. Within all of us.
In honor of family and our personal connections with Stanwich, I have written a letter of thanks, of love, and of reflection to our school.
Dearest Stanwich,
This senior class has had the pleasure of getting to know you and grow with you for more than 50 collective years as a group. One of our graduates has been a Stanwich student since kindergarten. 13 years.
Our Stanwich community has changed all of our lives, completely and for the better. The opportunities and memories and friendships you have given us are truly unforgettable and irreplaceable.
Walking through the streets of France and making it all the way up to the top of the Eiffel Tower.
Losing Sky Huang on this same trip on the metro. Don't worry, we found him, and he is graduating alongside us today.
Winning an undefeated high school boys basketball season.
Telling stories in Mr. Mineo's math class, stalling for the inevitable test that would shortly follow.
Trying to master jiu-jitsu moves and long-jumping over rows of students during free periods.
Trying one of Mr. Murphy's famous chocolate chip cookies, and still, to this day, desperately wondering how he makes them.
Completing our senior prank mural and blasting music in the hallway in celebration.
Thanking a veteran and shaking his hand in the National World War II museum in Louisiana.
Repelling down a waterfall in Costa Rica
Debating about who knows what in our statistics class, and Mr. Feder always trying to get us back on track.
Sitting on Andy's porch in Costa Rica and gazing at the countless mountain tops and the glowing sunset beyond.
Holding hands with hundreds of children as we hiked through the mountains of Cyabatanzi in Rwanda.
Each moment we cherish has come from the people of Stanwich. From you. From all of us.
You gave these moments and many more to all of us. And for that, we are all eternally grateful.
I struggled to find the right words in this letter. Maybe because I didn't want this to end. Because I didn't want to say goodbye. But this isn't goodbye.
This is a celebration of the people. Of you. Of all of us. This day marks our beginning, our first steps into a beautiful world and a future full of endless opportunities we have yet to seize. We are about to embark on the journey of our lives as we discover ourselves, our passions, and our destinies.
On this day, we stand together to take on the world and explore all that it offers. It is now our responsibility to cumulate all of our knowledge and make our world a better place. Because after all, we are on the cusp of adulthood. The precipice of life.
Thank you, Stanwich, for leading us. We will make you proud. In honor of you. Of all of us.
We are all so proud of each other. So proud. We are honored to be a part of this class. Of this family. We will all go on to accomplish amazing things during our next adventures. Congratulations to the Stanwich Class of 2019.
Sincerely and With Love,
All of Us.
Thank you.
Jackie Wood, Faculty Speaker
Good afternoon everyone. Families, colleagues, guests …  and our lovely seniors.
It is an honor to speak on behalf of the faculty and staff this afternoon.
I thought about starting this speech by reminding you of everything you have learned at Stanwich over the past 4 years. I could tell you what college will be like, and how you should take all of the essential information and life skills you have learned at Stanwich and apply them in the real world. But as I started thinking about the influence Stanwich and your teachers have had on you, I couldn't help but reflect on the impact you have had on us.
In the words of Maya Angelou: "I've learned that people will forget what you said, people will forget what you did, but people will never forget how you made them feel."
So instead of talking about everything you've learned at Stanwich, on behalf of the faculty, I would like to take this time to let you know how YOU have made US feel…
You have made us proud in many ways: we have watched you perform on stage and listened to you sing in concerts. You have brought tears to our eyes – tears of laughter and joy – as we have watched you take on roles that were so complex, you managed to make us forget that
you're also the student who giggles every time they try to give a speech.
We have cheered for you enthusiastically as if you were our own children. Because, after all, some weeks go by where we see you more than we see our own families. And have been overjoyed to watch you receive awards and accolades that you are so, so deserving of
We have been impressed as we watched you navigate demanding schedules while maintaining a positive attitude and we feel cool when you give us a dap in the hallway.
We have felt joy as we laughed with you walking through the streets of Paris singing or zip-lining in Costa Rica. We have witnessed you move mountains in Rwanda and have seen how you can go from "goofy teen" to "mature adult" in the blink of an eye, always rising to the occasion
We have advised you through the years, listened to your passionate opinions on even the most pressing issues such as Hufflepuff or Slytherin?
We have felt aggravation when it seems as though you're not living up to your potential, and then gratified as we notice you also see that in yourself, and change your course.
We have shared with you your frustration about learning disabilities, and then watched as you worked so hard to overcome them with grace. We have observed you take your diagnosis and use it to teach younger students "you are not alone"
Our hearts have broken as we have listened to stories of how someone hurt you, or how you're struggling in a class and just don't think you can do it.
And then, you have delighted us by overcoming hurdles and doing it anyway
We have marveled at your resilience as you overcame personal tragedy or adversity in the wake of devastating accidents
We met you as the new kid, knowing no one, and have watched anxiously as you blossomed into a wonderful young adult and a reliable friend
When we think of your class, the lyrics from Dear Evan Hansen ring in our ears: "Even when the dark comes crashing through, and when you need a friend to carry you, when you're broken on the ground you will be found."
We have known you as the veteran, the student who has been at Stanwich since kindergarten. You have made us curious wondering if you would ever get sick of it, and if you did, you didn't show it.
We have felt inspired by how willingly you all go out of your way to help and support each other and your community, especially when one of your own is hurting – and we're hopeful that your Stanwich heart will go with you wherever you go
We have been humbled at how strong you are in your convictions and morals, and are not easily swayed or tempted to compromise your principles.
It has been a pleasure to watch you grow-up over the past 4 years, and this year, as the walls were literally closing in on you, you managed to hold your heads high and keep your dignity through it all.
You have made us feel appreciated, every time you leave our classroom saying thank you.
We have felt content when you let us know in even the most subtle ways that what we were doing was good work.
They say that a parent's job is to give children two things – roots and wings. Well, I'd like to think that's a Stanwich teacher's job as well. You have all made us feel very important over the past 4 years because you've needed us so much, but I am proud to say that we are also grateful knowing that you are ready to leave our cozy nest.
In a year where there has been so much uncertainty, we knew one thing for certain – we were here – for you. You have made us feel comfortable and secure with your calming demeanor and your gentle smiles. And while there has been so much change, you have been our constant.
Seniors, for 4 years you entering our classrooms has been the best part of our day. Thank you for giving us fond memories to look back on and so much hope for the future.
In history class we often talk about the human element. The piece of the puzzle that cannot be quantified, the part that we can't understand by reading documents from the past. We try to understand why we do the things we do, what motivates us, and most of all, what keeps us moving forward.  I believe it's the relationships we make. Our parents and families, our friends and peers, our colleagues, and our teachers in and out of school – they are all people who shape our lives. Ultimately, we are motivated by the love we have for each other and the communities we belong to.
While I was struggling to write this speech and put the meaningfulness of Stanwich into words, my husband simply said to me, "Jackie, Stanwich isn't a place, it's more of a state of mind." And I thought no words have ever been more true. In fact, I recently learned that it is something Pat Young used to say – that Stanwich is the "inside out" school, meaning it's what's on the inside that counts.
Stanwich isn't a place, it never has been. It has gone through many homes – here on Stanwich Road, Greenwich Baptist Church, St. Agnes, St. Catherines, Stanwich East in Stamford. Let's face it, none of your parents sent you to Stanwich because of the building. The building isn't what makes it Stanwich, it's the relationships that live within.
Seniors, a true Stanwich heart never wants to be the reason that someone else has a bad day – no group of people proves that more than the 11 of you. Kids, you are our future, and what a glorious future it will be if it is filled with people like you. As you move through life, please always focus on the love that you have for the people who surround you; if you continue to focus on the good, you will always find success.
Schuyler, Ted, Tyler, Tomas, Thomas, Lily, Sky, Katie, Cullen, Luis and Gaby – on behalf of the faculty and staff, we want to let you know that, despite there not being a physical space anymore, wherever you find a Stanwich teacher, you find a home.
Thank you.
—