High Schoolers Prove Timelessness in 'The Foreigner'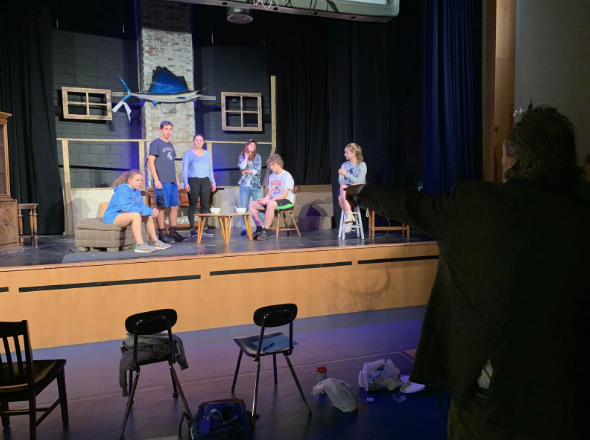 NEWSROOM- The Foreigner, by American playwright Larry Shue, is a two-act comedy set in 1980s Georgia.
Two British friends, Froggy and Charlie who were once army comrades, visit a fishing lodge in rural Tilghman County Georgia.  Charlie being the shyer of the two, did not answer people who tried to talk to him because being depressed about his wife's illness, led him to not be able to find the words to reply.
Froggy told the people of the lodge that Charlie was a "foreigner" from an exotic country who did not understand english.  Believing that Charlie was actually a foreigner, the guests of the lodge began revealing their secrets to Charlie which leads him to discovering the scandals amongst the residents.
"This play is timeless… it's very relevant today.  There is a lot of distrust in the world, a lot of people are retrieving into their own little groups.  Even though it's set in the 1980's, it's more relevant today" said Mr. Mandia (Director) in an interview.
Dylan McCormick (Junior), playing Charlie, really likes this play; not because of the plot, but what he learned playing Charlie,
"All of my character's role is basically reacting and one of the first lessons you learn is that acting is reacting so this play really helps show that."
Dylan enjoys theater and feels that theater has taught him many lessons in his daily life,
"One of the great things about theater is that it's one of the best ways to learn teamwork and how to work with others.  I've been so incredibly lucky to be able to work with such a great cast that knows how to take the production seriously but also knows how to have fun."
Performances include(d) a Friday and Saturday in the evening and one matinee on Sunday.
Story by Nichole Roldan, Reporter
Edited by Ted Frascella, Editor in Chief
If viewing this story in email, please click on the headline above for any graphics/videos/pictures.