OPINION – Seniors Settle for Unsettling Sensation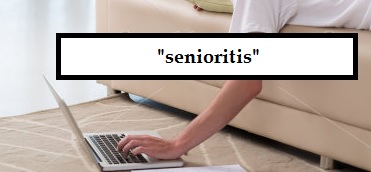 Hang on for a minute...we're trying to find some more stories you might like.
SENIOR HOUSE/OPINION – Once college decisions are made, Seniors impatiently await graduation and grudgingly attend school.  Well, most of the time.  
The unusually cold weather delaying the arrival of spring is not stopping the annual materialization of Senioritis.  For those who have not experienced the third trimester of Senior year: yes, Senioritis is real.
Brandon McClean, Senior, is one student who feels Senioritis began very early and has increased over time.  
"I've had senioritis since freshman year," he joked.
Senioritis consists mainly of lack of motivation.  Fully completing a homework assignment with maximum effort and staying up extra late to study for a big test seem to be things of the past- even if its wrong.  Even finishing this article (last minute) is considered an accomplishment among all.
Maddie Dwyer, Senior, lists a few priorities that many of the Seniors have in common.  
"My only motivation is to eat, to sleep, and to be somewhat social."  Second-semester Seniors always aim high.
Considering the Senior class has heard back from all the colleges they applied to, the determination to get good grades to put on a transcript is dwindling.  With grades officially closing in the beginning of May, there is a matter of days left before a full day's schedule no longer exists for Seniors.
A Senior needs a B+ average or higher in a class for the year to be exempt from exams.  Most students currently know if they will need to set an alarm for the test that day or if they will have the luxury of sleeping in.  
While the phrase "finish strong" is a motto to live by, Seniors are saving it for another day with an increasing build-up of Senioritis. 
In fact, this writer, a Senior, doesn't even have the motivation to finish this arti………………..
Story by Isabel Vigale, Senior News Reporter
Edited by Maeve Sebold, Editor-in-Chief
If viewing this story in email, please click on the headline above for any graphics/videos/pictures.