Ice Cream Health Benefits Shouldn't Leave Anyone Cold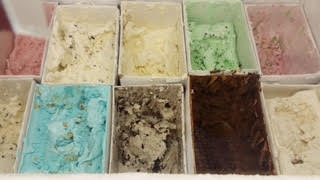 Hang on for a minute...we're trying to find some more stories you might like.
NEWSROOM – We could all probably go for ice cream right now- a common refrain – but how does it affect our overall health?
According to the USDA, one serving of ice cream has 14 grams of sugar.  Everyone knows that.
But ice cream isn't all bad: it provides our bodies a few health benefits.  It contains calcium, vitamin B, and can possibly lead to a lower chance of high blood pressure.  However, eating too much of anything is bad for you and having too much sugar in your diet can lead to weight gain.
The UK-based news source, The Independent, did a study recently showing how ice cream is healthy. It states that for the Ice Cream Diet, "eat a portion of ice cream every day as part of the diet."  The article even stretches notions by saying that ice cream may reduce the risk of developing colon cancer and lower blood pressure.
Another frozen debate is which ice cream flavor is better, chocolate or vanilla.  Vanilla is the most popular ice cream flavor in the world, with chocolate ice cream having more calories and carbohydrates.  They both have the same amount of fat, but chocolate is said to have more protein than vanilla.
Some people go crazy for ice cream, like the creators of the Ice Cream Museum in Miami, San Francisco, and Los Angeles.  But Stanwich students were quick to share their sweet opinions.
Lily Grady, junior, shared her opinion on the flavor debate.
"Chocolate all the way; it is magical."
However, fellow 11th grader Gaby Wakim disagreed with Lily.
"Vanilla is the best flavor ever because it doesn't make you too full like chocolate does.  It's plain, simple, and delightful.  Ice cream is very healthy for you because it melts in your mouth and flows through the system.  My sports coaches prescribe their athletes to eat ice cream at least once a day because it makes you happy."
Whether you like chocolate or vanilla, we can all agree that we a just want absolutely all the ice cream in the world.
Story by David-Jared Matthews, Reporter
Edited by Maeve Sebold, Editor in Chief
If viewing this story in email, please click on the headline above for any graphics/videos/pictures.