OPINION – 'YouTube Rewind' Causes Stir & Dislikes; Disconnecting from its Roots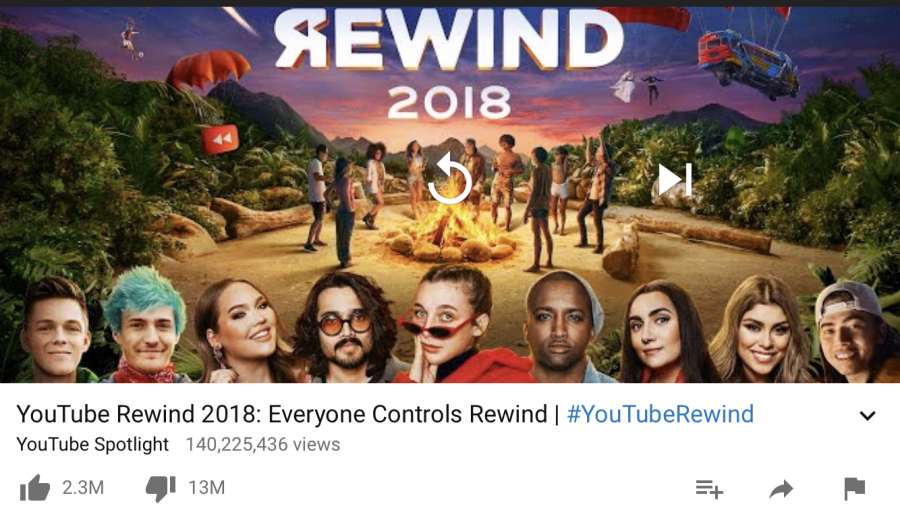 OPINION/NEWSROOM- In the past few years, YouTube frew from a small video-sharing platform to something of a cultural institution.  The site regularly pulls in 1.8 billion monthly users, just shy of Facebook's 2 billion, and every minute over 300 hours of footage are uploaded.
Despite this colossal amount of activity, every December YouTube releases a video attempting to summarize the most significant events that occurred on the site that year, entitled "YouTube Rewind".  In years past this video has been fairly well-received, with far more "likes" than "dislikes" from YouTube's user base, but recently this has changed.
To illustrate a timeline, the 2016 edition of the video received, as of December 16th, 2018, 3.6 million likes and 540 thousand dislikes.  The following year's edition received 4 million likes and 2 million dislikes. Most recently, the 2018 YouTube Rewind has become the most disliked video in history, surpassing "Baby" by Justin Bieber, and boasting a staggering thirteen million dislikes and just two point three million likes in ten days.
What could have possibly caused such a massive uproar against a seemingly passive video summarizing the year? According to many YouTubers the reason for this was because of the division between the site and its creators.  YouTube has a history of not being clear about changes it makes to the site, which has been a long-standing problem for many users.
According to Felix Kjellberg, A.K.A. PewDiePie, the site's largest creator, the reason for the outcry toward this year's Youtube Rewind is that YouTube is "so disconnected from the site and it's creators."
Mr. Kjellberg is referring to the fact that the site did not include several of its more controversial, but quite significant creators this year, some of which include Kjellberg himself, Jake and Logan Paul, KSI and ComedyShortsGamer, and Shane Dawson. All of these creators have seen their fair share of controversy during this and previous years, and Kjellberg and many others believe this is the reason they were kept out of the video.  According to them, YouTube simply creates the Rewind each year to make their site more appealing to advertisers, and not to accurately represent community, as it claims.
The reaction to the 2018 YouTube Rewind has made it abundantly clear that YouTube is not the family-friendly site that it wants to be, and the user base is none too happy about the fact that the site is trying to pretend it is.  Top comments on the video include statements such as "Terrible as usual!" with 179 thousand likes, and "YouTube really needs to stop trying to be something it's not, and actually embrace it's creators." with 45 thousand likes. The public outcry against the video eventually caused a YouTube spokeswoman, Andrea Faville, to respond by saying that "Honest feedback can [stink], but we are listening and we appreciate how much people care. Trying to capture the magic of YouTube in one single video is like trying to capture lightning in a bottle."  Though this year's overwhelmingly negative reaction to the video may seem disheartening to YouTube, there is always next year, and YouTube at least seems to want to improve.
Story by Hamish Dubitsky, reporter
Edited by Ted Frascella, Editor-in-Chief
If viewing this story in email, please click on the headline above for any graphics/videos/pictures.