Ongoing Partial Shutdown Reveals Impasse – or Wall – Between Parties, Branches of Government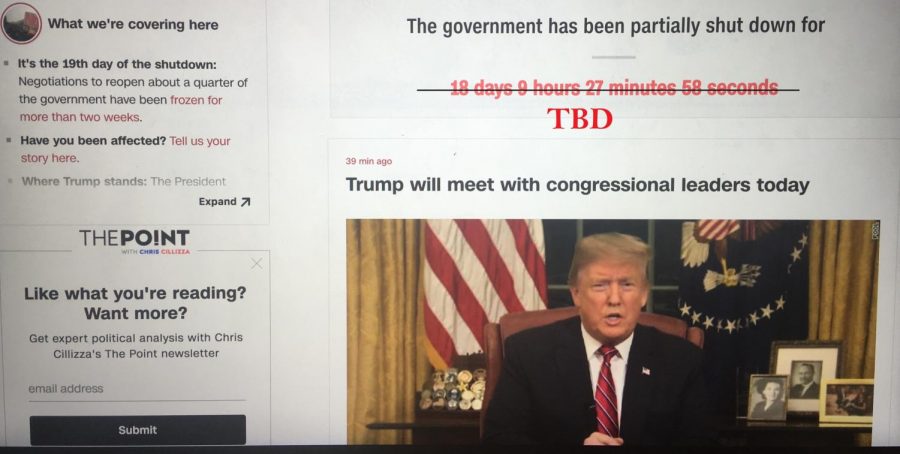 NEWSROOM- Since December 22nd, the United States government has been partially shut down and the budget isn't even the reason why.
The Executive and Legislative branches, now controlled by different parties (the House of Representatives is run by the Democrats as a result of the November elections) cannot agree on whether a border wall with Mexico should be constructed.  The $5.7 billion or so is part of the disagreement, but the House prefers zero dollars for this project. This disagreement resulted in a showdown over the budget itself, since the funding would have been attached to the budget.
So what exactly is a government shutdown?  In U.S. politics, a government shutdown occurs when Congress is unable to pass sufficient appropriation bills or continuing resolutions to fund federal government operations and agencies, or when the President refuses to ratify the bills and resolutions.  
Over 800,000 federal workers, contractors and various agencies have been affected.  Departments affected include, Agriculture, Commerce, Justice, Homeland Security, Transportation, Treasury, State, Development, and Housing and Urban Development.  This has led to federal employees suing the U.S government for the requirement that some work without pay, according to Al Jazeera and News Agencies.
Some of the workers working without pay are right here in Connecticut.  Only a fraction of those federal employees live in Washington, DC.
Solutions seem far off, as the shutdown enters its 19th day [as of this report.]
"I think there is some compromise where you could increase border security and give space for President Trump to feel like [he has] a bit of a campaign promise come true, but also meet the needs of Democrats and get the government to reopen fully," said Mr. Hughes, AP American Government and History Teacher, when asked his thoughts on if the government could possibly compromise or negotiate in order to reach the budget.
Many Republicans are standing by President Trump's demand.  Senator Lindsey Graham told CBS that he does want the government to reopen but the "goal is not to open up the government", it is "to fix a broken immigration system to bring reality to [the] table."  Also adding that "we're never going to have a deal unless we get a wall as part of it."
Speaker of the House, Democrat, Nancy Pelosi has called the wall immoral and has said that Democrats are willing to fund security measures that do not include the wall.  On January 3rd Democrats took control of the House and passed a two-bill spending package anticipating to immediately reopen the government.  This included 1.3 billion dollars for border fencing and 300 million for other border security items such as technology and cameras, according to Al Jazeera.
We are now into the third week of this partial shutdown making it the second longest in U.S history.  Lauren Gambino, reporter for The Guardian says there is "virtually no end in sight".
Story by Carylin Rivera, Reporter
Edited by Ted Frascella, Editor in Chief
If viewing this story in email, please click on the headline above for any graphics/videos/pictures.